Email us at customer@cibortv.com
SEE REVIEWS OF OUR PRODUCT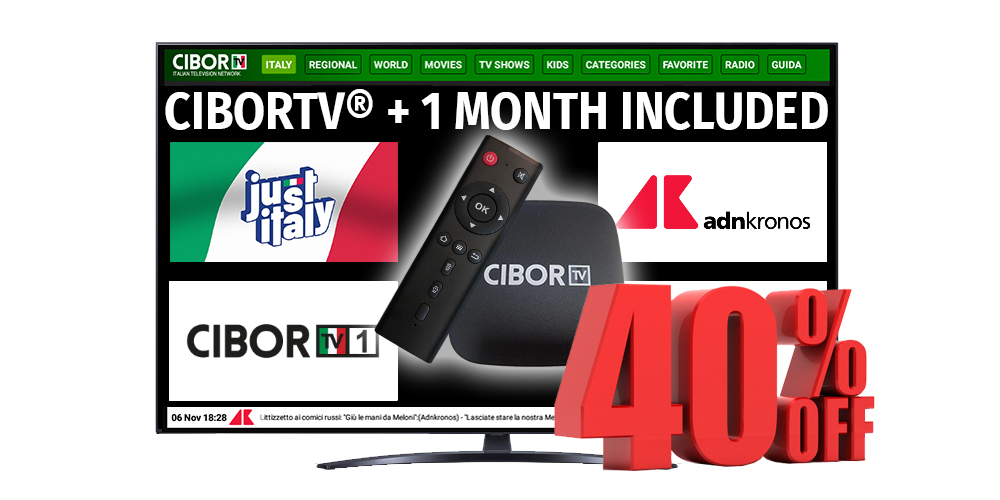 CIBORTV BOX + 1 MONTH PLAN INCLUDED
40%OFF

FIRST MONTH INCLUDED

CUSTOMER SERVICE 7 DAYS A WEEK

14 DAYS MONEY BACK GUARANTEE

1 YEAR FULL WARRANTY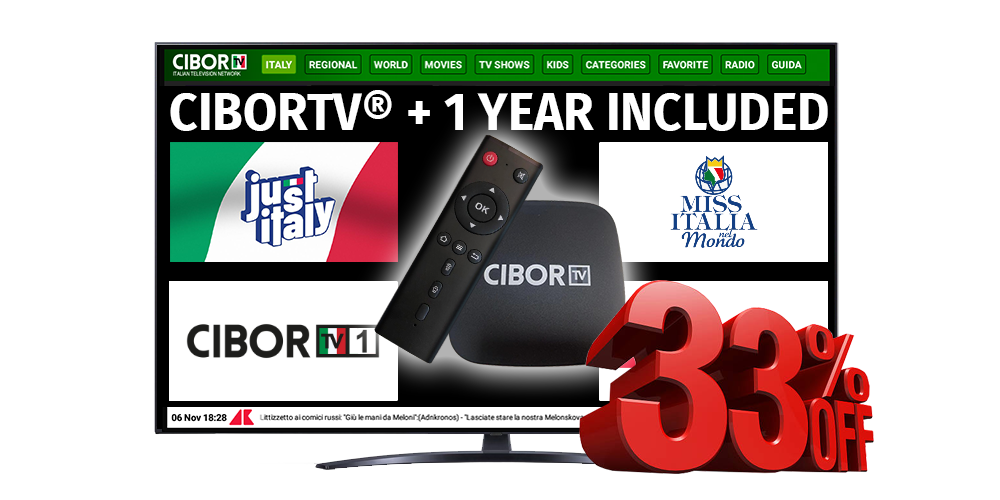 CIBORTV BOX + 12 MONTHS PLAN INCLUDED
USD223.87
USD
149
33% OFF

FIRST 12 MONTHS INCLUDED

CUSTOMER SERVICE 7 DAYS A WEEK

14 DAYS MONEY BACK GUARANTEE

1 YEAR FULL WARRANTY

AFTER 1 or 12 MONTHS?
RENEWAL AREA
ONLY FOR CIBORTV BOX OWNERS
Renew here.
THE GREATEST ITALIAN COMMUNITY ABROAD
CIBORTV® is officially partnered with
With CIBORTV Box you have access to 300+ Italian Channels from all over the world. All that is required is a stable Internet Connection! The box needs to be installed with 1 HDMI cable to the TV. In less than 1 minute, you can stream everything.
TIME:
– 7 WORKING DAYS
COST:
– USD 9.99 to USA
– USD 19.99 per Canada e Panama

ITALY
Over 80 national channels available from your TV!
REGIONAL
Over 300 regional channels for CIBORTV users.
WORLD
Over 700 channels from all over the world. Eendless entertainment experience!
Full HD live TV channels. All you need is an internet connection.
Plug the CIBORTV BOX into a socket and any HDMI input on your TV and you are good to go.
Enjoy your CIBORTV BOX streaming decoder wherever you are whenever you want.
Technical features
General Information Operating System:
Android 7.1.2 CPU: ARM Cortex-A7 Quad Core RAM: 2 GB DDR3
Connection:
WiFi or Ethernet min. 8mbps with 2.4 GHz band for more stable signal and higher quality video experience
Video Resolution:
Full HD 1080P 60 FPS.
Language Operating System:
English
Size (WxDxH) and weight:
9.00 x 9.50 x 1.80 cm / 3.54 x 3.74 x 0.71 inches
200 gr – 7 oz
Package Contents:
CiborTV Decoder, Remote Control (batteries not included), HDMI cable, Power supply.

HDEA LLC

Email – Customer Care: customer@cibortv.com
EIN: 82-3963243
14 DAYS MONEY BACK GUARANTEE!
We are so confident that CIBORTV Box will exceed your expectations that we offer you a full refund guarantee within 14 days of your purchase.
SEDE LEGALE USA 134 S. Dixie Hwy Suite 201
Hallandale Beach
33009 FL
UFFICIO SUD AMERICA Studio Legale Pereira – Amigo Av Gral Pacheco 1700 #62 Don Torcuato (1611) Prov. Bs. As. ARGENTINA
MAGAZZINO USA 225 NW 2 Ave
Hallandale Beach 33009 FL USA